200 organisations membres ou associées à l'Alliance pour un Traité ont co-signé une lettre demandant à tous les États membres de l'ONU de s'engager concrètement, et sans délai, dans la nouvelle étape du processus de négociation d'un traité international. Celui-ci permettrait notamment d'améliorer l'accès à la justice des victimes et de mettre fin à l'impunité des entreprises en cas de violations des droits de humains.
200 organisations membres ou associées à l'Alliance pour un Traité ont co-signé une lettre demandant à tous les États membres de l'ONU de s'engager concrètement, et sans délai, dans la nouvelle étape du processus de négociation d'un traité international. Celui-ci permettrait notamment d'améliorer l'accès à la justice des victimes et de mettre fin à l'impunité des entreprises en cas de violations des droits de humains.
Contexte :
La nouvelle session de négociation à l'ONU sur le traité sur les multinationales et les droits humains aura lieu en octobre 2018. Afin de la préparer, sont actuellement organisées des consultations à Genève. Ces dernières, ainsi que les rapports des précédentes sessions de négociations, serviront de base au "draft zero" du traité.
L'Alliance pour un Traité (Treaty Alliance), qui regroupe des organisations et mouvements sociaux du monde entier, vient d'envoyer une lettre ouverte aux gouvernements, signée par 200 organisations. Cette lettre appelle les gouvernements à s'engager activement dans les négociations en participant à ces consultations informelles, afin de protéger les droits des communautés et personnes affectées par les opérations des multinationales, et de mettre fin à leur impunité.
Lettre :
Nous, les membres de l'Alliance pour un Traité, une vaste plate-forme d'organisations de la société civile et de mouvements sociaux en faveur de l'adoption d'un traité international concernant les sociétés transnationales et autres entreprises, et d'autres organisations soussignées, appelons tous les États membres de l'ONU à s'engager sans délai à cette nouvelle étape du processus, dans des négociations actives et constructives sur le contenu du traité. Ceci, afin d'améliorer les droits humains des communautés et des personnes affectées par les activités des entreprises, améliorer leur accès à un recours efficace et mettre fin à l'impunité des entreprises en cas de violation des droits humains.
Nous considérons que les pourparlers entre les États membres, ainsi qu'avec les organisations de la société civile, sont essentiels pour faire avancer le processus. Nous envisageons que ce travail avance sur deux voies, toutes deux d'une extrême importance pour le processus : l'une sur le contenu du futur traité et l'autre sur la manière dont les discussions seront organisées ("la voie à suivre").
Pour ce faire, nous appelons tout d'abord les États à formuler des observations substantielles lors des consultations informelles qui se tiennent actuellement à Genève et être prêts à contribuer par des formulations concrètes et des propositions de fond sur le projet de traité une fois qu'il sera publié, comme cela est prévu dans le rapport de la troisième session du Groupe de travail intergouvernemental.
Deuxièmement, afin d'appuyer l'engagement actif et substantiel des États membres dans les négociations, nous soulignons qu'il est très important que le projet de traité soit publié dans un délai opportun pour donner aux délégations gouvernementales et aux autres parties prenantes suffisamment de temps pour se préparer aux discussions. Ce texte devrait prendre en considération les éléments du document publié avant la troisième session et les contributions orales et écrites faites au cours des trois premières sessions.
Troisièmement, afin d'aller de l'avant sur la deuxième voie concernant le processus de négociation, nous demandons également aux États de participer activement en soumettant des propositions concrètes et claires à la Présidence sur la manière dont le programme de travail, y compris celui de la 4ème session à venir, devrait être organisé pour réaliser le mandat dans les plus brefs délais possibles. Nous demandons également au Président du groupe de travail intergouvernemental d'accorder une attention particulière à toutes ces propositions et de redoubler d'efforts pour parvenir à un résultat négocié.
Nous soulignons notre ferme attachement à l'objectif d'établir un traité international. Un ensemble d'obligations contraignantes et de mécanismes d'application est la prochaine étape nécessaire et logique dans le processus qui a débuté il y a plusieurs décennies afin de garantir l'accès à la justice aux personnes et communautés affectées et de mettre fin à l'impunité des entreprises.
(Traduction en français par la Commission Justice et Paix Belgique)
Pour la lettre originale en anglais, cliquez ici
Si votre organisation veut signer, c'est encore possible jusqu'au 10 juin : cliquez ici
Signataires
1. 11.11.11, Belgium
2. ActionAid International
3. Africa Development Interchange Network (ADIN)
4. African Law Foundation (AFRILAW), Nigeria
5. Afrikagrupperna
6. Agricultural Missions, Inc, USA
7. ALBOAN
8. Alliance des Femmes Tunisienne Agriculture, Tunisie
9. Al-Haq
10. ALTSEAN-Burma
11. Ambiente, Desarrollo y Capacitación (ADC), Honduras
12. Amigos de la Tierra (FoE) América Latina y Caribe (ATALC)
13. Asamblea Veracruzana de Iniciativas y Defensa Ambiental, Mexico
14. Asian Peoples Movement on Debt and Development
15. Asociación de Investigación y Especialización sobre Temas Iberoamericanos (AIETI)
16. Association For Promotion Sustainable Development, India
17. Association for Women's Rights in Development (AWID)
18. ATTAC España
19. ATTAC France
20. ATTAC Norway
21. Banana Link
22. Ban Asbestos Network of India (BANI)
23. BankTrack
24. Basel Institute of Commons and Economics
25. Belgian Support Committee to the Saharawi People
26. Biowatch, South Africa
27. Brazilian Working Group for the 2030 Agenda
28. BUND / Friends of the Earth Germany
29. Burma Human Rights Network
30. Catholic Agency For Overseas Development (CAFOD)
31. Campaign for Human Rights and Development International (CHRDI), Sierra Leone/UK
32. CCFD - Terre Solidaire
33. Center for International Environmental Law (CIEL)
34. Center of Concern, USA
35. Center for Research and Documentation Chile-Latin America (FDCL)
36. Centre Europe - Tiers Monde (CETIM)
37. Centre national de coopération au développement-11.11.11 (CNCD)
38. Centro de Derechos Económicos y Sociales-CDES (Ecuador)
39. Centro de Documentación en Derechos Humanos "Segundo Montes Mozo S.J." (CSMM)
40. Centro de Estudios Legales y Sociales (CELS)
41. Centro de Estudios para la Justicia Social TIERRA DIGNA
42. Centro Internazionale Crocevia
43. CESTA, Amigos de la Tierra El Salvador
44. CIDSE
45. Civil society network for food security and rural Development in Cameroon (COSADER)
46. Civil Society Organization of Small Island Developing States (SIDS CSO)
47. Clean Clothes Campaign International
48. Collectif Ethique sur l'étiquette
49. Collectif Guatemala, France
50. Comité Ambiental en Defensa de la Vida, Colombia
51. Comisiones Obreras (CCOO), Spain
52. Community Resource Centre, Thailand
53. Confederación Sindical de Trabajadores/as de las Américas (CSA)
54. Congregation of Our Lady of Charity of the Good Shepherd
55. Coordination nationale de la Marche Mondiale des Femmes, Tunisie
56. CorA Network for Corporate Accountability
57. Corporación SOS Ambiental
58. Corporate Accountability International
59. Crude Accountability
60. Development Alternatives with Women for a New Era (DAWN)
61. Diverse Voices and Action (DIVA) for Equality, Fiji
62. DKA Austria
63. Dominican Leadership Conference
64. Dominicans for Justice and Peace
65. Due Process of Law Foundation (DPLF)
66. Edmund Rice International
67. Enlaces por la Sustenabilidad, El Salvador
68. Entrepueblos-Entrepobles-Entrepobos-Herriarte
69. Equidad de Género : Ciudadanía, Trabajo y Familia (Gender Equity : Citizenship, Work and Family), México
70. EU-LAT Network
71. ETOs Watch Coalition
72. Federation of Environmental and Ecological Diversity for Agricultural Revampment and Human Rights (FEEDAR & HR)
73. Fenntarthatóság Felé Egyesület /Towards Sustainability Association, Hungary
74. FIAN Austria
75. FIAN Belgium
76. FIAN Brazil
77. FIAN Colombia
78. FIAN Germany
79. FIAN Honduras
80. FIAN International
81. FIAN Mexico
82. FIAN Sweden
83. FIAN Switzerland
84. Focsiv, Italy
85. Foro Ciudadano de Participación por la Justicia y los Derechos Humanos (FOCO)
86. Foundation for Environment and Natural Resources (FENR)
87. Franciscans International
88. Friends of the Earth Brazil
89. Friends of the Earth Europe
90. Friends of the Earth France / Amis de la Terre France
91. Friends of the Earth International (FoEI)
92. Fundación de Estudios para la Aplicación del Derecho (FESPAD), El Salvador
93. Fundación Etnica Integral (FEI), Republica Dominicana
94. Fundación Mexicana para la Planeación Familiar AC, MEXFAM
95. Fundación Mundubat
96. Fundación para el Desarrollo de Políticas Sustentables (FUNDEPS), Peru
97. Geneva Infant Feeding Association (GIFA)
98. Gestos, Brazil
99. Global Initiative for Economic, Social and Cultural Rights
100. Global Justice Now
101. Global Policy Forum
102. Grupo de Estudio Sobre El Derecho Internacional Privado y los Derechos Humanos (Research Group on Private International Law and Human Rights)
103. Grupo Tacuba, Mexico
104. Homa-Human Rights and Business Centre
105. HondurasDelegation Alemania y Austria
106. Humanistas por la Salud
107. Humanitaire Plus, Togo
108. Human Rights International Corner
109. IBON International
110. ICW-CIF
111. Inclusive Development International
112. Indonesia Focal Point for Legally Binding Instrument
113. Indonesia for Global Justice (IGJ)
114. Information Group on Latin America (IGLA), Austria
115. Institute for Policy Studies
116. International Baby Food Action Network (IBFAN)
117. International Commission of Jurists (ICJ)
118. International Federation for Human Rights (FIDH)
119. International Labor Rights Forum (ILRF)
120. International Presentation Association
121. International River (IR)
122. International Women's Rights Action Watch Asia Pacific (IWRAW -AP)
123. International Youth and Student Movement for the United Nations (ISMUN)
124. Jamaa Resource Initiatives, Kenya
125. Justiça Ambiental / Friends of the Earth Mozambique
126. Justiça Global
127. Justice & Paix
128. KRuHA Indonesia - people's coalition for the right to water
129. Lakeshore & Help Relief Zambia
130. La Oficina Ecuménica por la Paz y la Justicia
131. Living Law, UK
132. Lumière Synergie pour le Développement (LSD), Sénégal
133. Manushya Foundation
134. Maryknoll Office for Global Concerns
135. Mekong Butterfly, Thailand
136. MIJARC Asia
137. Missionary Oblates of Mary Immaculate
138. Mission EineWelt
139. Movimento dos Atingidos por Barragens (MAB)
140. MTVSZ / Friends of the Earth Hungary
141. National Coordinating Organization for Farmers Association The Gambia (NACOFAG)
142. NeSoVe - Network Social Responsibility
143. Nigerian Women Agro Allied Farmers Association
144. NOAH, Friends of the Earth Denmark
145. Oxfam IBIS
146. Oxfam in Guatemala
147. Pacific Partnerships on Gender, Climate Change and Sustainable Development (PPGCCSD)
148. Pax Christi International
149. Plataforma Internacional Contra la Impunidad
150. PPSS (Anti-POSCO People's Movement)
151. Pro Ethical Trade Finland
152. Pro Natura - Friends of the Earth Switzerland
153. Protection International
154. REDES-Amigos de la Tierra Uruguay
155. Red de Educacion Popular entre Mujeres (REPEM -LAC)
156. Radha Paudel Foundation, Nepal
157. Regions Refocus
158. Religious of the Sacred Heart of Mary
159. Repórter Brasil
160. Réseau Genre et Droits de la Femme (GEDROFE), République Démocratique du Congo
161. Red Internacional de Derechos Humanos (RIDH)
162. Rural Community Development Organisation, Malawi
163. Rural Reconstruction Nepal (RRN)
164. Servicios Ecumenicos para la Reconstruccion y Reconciliacion (SERR), USA
165. Sherpa
166. Sisters of Charity Federation
167. Sisters of Notre Dame de Namur
168. Society for International Development (SID)
169. Society of Catholic Medical Missionaries
170. SOMO (Centre for Research on Multinational Corporations)
171. Spanish Development NGO Platform
172. Spirit in Education Movement (SEM)
173. Stamp Out Poverty
174. Suara Rakyat Malaysia (SUARAM)
175. SÜDWIND e.V., Germany
176. Tax Justice Network Africa (TJNA)
177. The Bretton Woods Project, UK
178. The Democracy Center
179. The Honduras Forum Switzerland
180. The Project on Organizing, Development, Education, and Research (PODER)
181. The Temple of Understanding
182. Third World Network
183. ToxicsWatch Alliance (TWA)
184. Transnational Institute (TNI)
185. Trocaire
186. Uganda Coalition for Sustainable Development
187. Unanima International
188. Unión Sindical Obrera (USO), Spain
189. Union syndicale Solidaires
190. United Nations Major Group for Children and Youth (UNMGCY)
191. Urgenci International Community Supported Agriculture Network
192. Urgent Action Fund for Women's Human Rights (UAF)
193. VIVAT International
194. War on Want
195. Welthungerhilfe
196. Women's International League for Peace & Freedom (WILPF)
197. Women's UN Report Network (WUNRN)
198. World Association of Societies of Pathology and Laboratory Medicine (WASPaLM)
199. World March of Women
200. WSM-World Solidarity
À télécharger...
Également...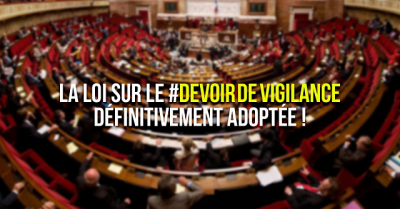 Un an après sa promulgation, la loi sur le devoir de vigilance doit être (...)
Les Amis de la Terre à l'Université d'été des mouvements sociaux
Loi sur le devoir de vigilance des multinationales - Questions fréquemment (...)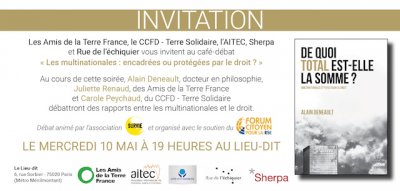 Café-débat : "Multinationales : encadrées ou protégées par le droit (...)