Chloé Lommisan, France-Soir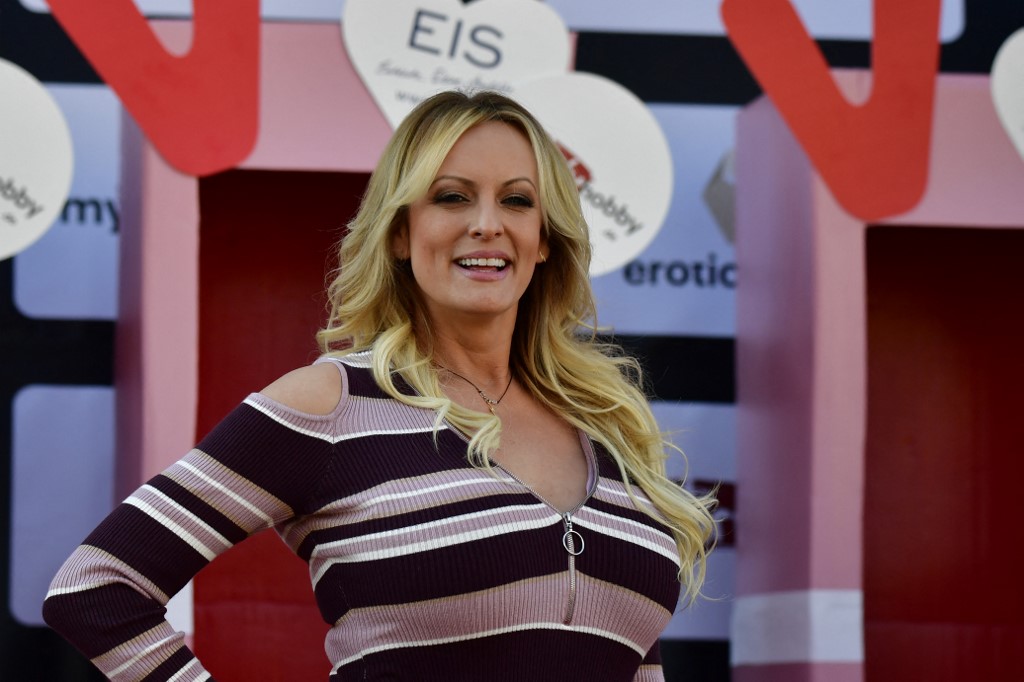 L'actrice de films pornographique, Stormy Daniels, le 11 octobre 2018.
TOBIAS SCHWARZ / AFP
Le 18 mars dernier, Donald Trump avait annoncé sur le réseau social Truth son inculpation imminente, dans le cadre de l'affaire Stormy Daniels. Hier, jeudi 30 mars, le procureur du district de Manhattan à New York, Alvin Bragg, a bel et bien signifié à l'avocat de Donald Trump la prochaine "mise en examen" de son client. Les modalités de son arrestation seront toutefois précisées ultérieurement, courant avril.
C'est une première dans l'histoire américaine : un ex-président va être inculpé. Donald Trump a toujours nié une rencontre tarifée avec l'actrice pornographique Stormy Daniels (alias Stephanie Clifford), évoquant selon lui une "tentative d'extorsion".
Raisonnement juridique
Mais un accord de non-divulgation de leur contact aurait été convenu peu avant l'élection présidentielle de 2016, entre Stephanie Clifford et Michael Cohen, l'ancien avocat de Trump, à hauteur de 130 000 dollars.
Cette somme aurait été remboursée à l'avocat par une entreprise, la Trump Organization. Comptabilisée en tant que "frais juridiques", son versement constituerait, uniquement, un délit. Mais par le truchement d'un raisonnement juridique sophistiqué, le procureur de Manhattan, Alvin Bragg, a obtenu une "mise en accusation" au pénal de Trump, dont le détail est encore sous scellé.
Il est probable que Bragg ait réussi à convaincre le grand jury réuni à huis clos que cette "fausse comptabilité" avait été réalisée dans le but de cacher un autre crime : un don illégal à la campagne électorale de Trump. Ce qui relève du pénal.
Que va-t-il se passer ? Le procureur de Manhattan a demandé à l'avocat de Trump que son client "se rende" (to surrender) à l'administration. Ses empreintes digitales seront enregistrées. La médiatisation de cette arrestation, avec un ancien président éventuellement menotté, reste une inconnue.
pic.twitter.com/3mGeW1QmJf
Trump, qui avait déjà anticipé cette éventualité, se déclare "complètement innocent". Il dénonce dans un communiqué l'instrumentalisation de cette accusation, en pleine campagne des primaires en vue de l'élection présidentielle américaine de 2024 : "Il s'agit de persécution politique et d'ingérence électorale au plus haut niveau de l'histoire". À l'unisson, le camp républicain hurle identiquement à une politisation de la justice.
PRESIDENT DONALD J. TRUMP:
?The Democrats have lied, cheated and stolen in their obsession with trying to ?Get Trump,? but now they?ve done the unthinkable - indicting a completely innocent person in an act of blatant Election Interference??
Le candidat rival de Trump aux primaires, Ron DeSantis, gouverneur de Floride, a évoqué en ce sens des liens entre le procureur Bragg et le milliardaire George Soros, sous-entendant des financements en vue d'influencer la tenue des enquêtes et la désignation de "cibles".
The weaponization of the legal system to advance a political agenda turns the rule of law on its head.
It is un-American.
The Soros-backed Manhattan District Attorney has consistently bent the law to downgrade felonies and to excuse criminal misconduct. Yet, now he is?
Un récent sondage Ipsos indique que plus de 54% des Américains considèrent l'inculpation de Donald Trump comme "politiquement motivée".
Les avocats de l'ex-président, Susan Necheles, Jospeh Tacopina et Alina Habba ont déclaré qu'ils se "battraient vigoureusement" contre l'acte d'accusation. Habba prédit que Trump "sera disculpé".
Si le camp démocrate répète que Trump "n'est pas au-dessus des lois", la Maison-Blanche s'est refusée à tout commentaire. La sécurité aux abords du palais de justice de New York a été renforcée, selon les autorités locales.