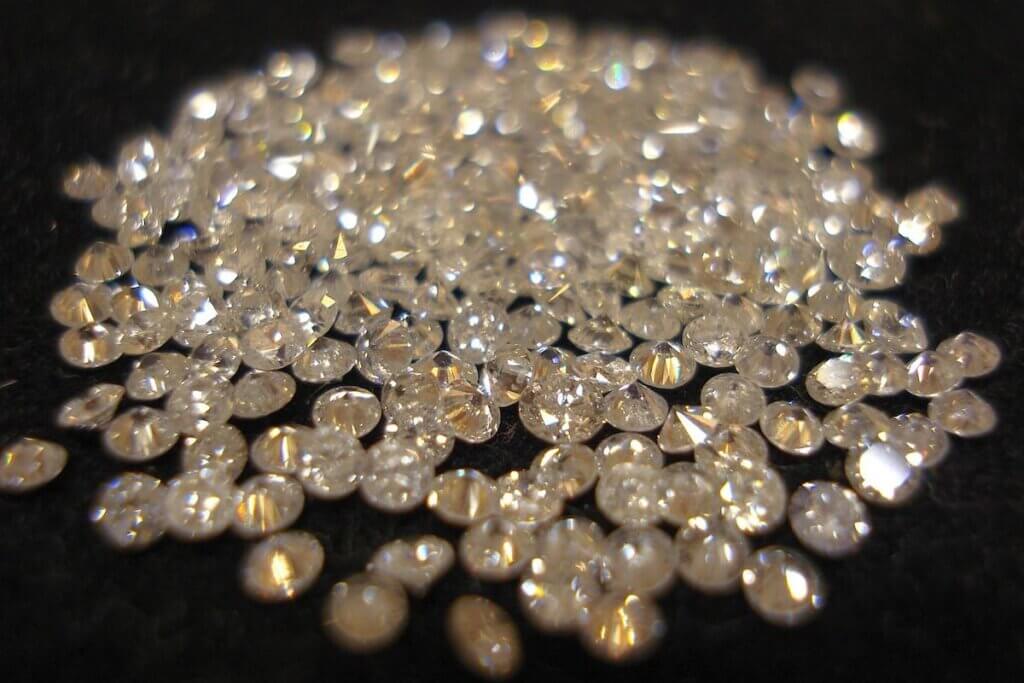 In a report investigating human rights violations in jewellery supply chains Human Rights Watch (HRW) cites diamonds from Zimbabwe and Angola but fails to mention diamonds from Israel. Israel's diamond exports dwarf those of a Zimbabwe and Angola combined and the industry is a major source of funding for a regime that HRW and many other credible organisations have accused of war crimes.
Although none of the jewellery companies "scrutinized" by HRW sell rough diamonds, "Sparkling Jewels, Opaque Supply Chains" is heavily focused on rough diamonds in the mining sector and airbrushes war crimes and crimes against humanity occurring further along the diamond supply chain.
Many if not all of the jewellery companies "scrutinized" by HRW have supply chains linked to the Israeli diamond industry. Although Israel's diamond industry has declined steeply since the 2014 massacre in Gaza, falling 21% in 2019 and on the verge of collapse in 2020 due to the global Covid-19 pandemic it will remain an important segment of an economy which, according to Prime Minister Netanyahu, is responsible for generating 88% of the vast security budget that funds the IDF, Mossad and Shin Bet.
While Zimbabwe and Angola stand accused of serious human rights violations Israel's record of grave human rights violations is arguably much worse. On December 20, 2019 the Prosecutor of the International Criminal Court (ICC), Fatou Bensouda, concluded there is reasonable basis to believe Israeli forces committed war crimes during the 2014 assault on Gaza which resulted in the deaths of over 2,250 people mainly civilian including over 550 children and also in relation to the transfer of Israeli civilians into the West Bank since June 13, 2014.
The only scheme governing the diamond trade is the Kimberley Process Certification Scheme (KP). However, the remit of the KP is confined to banning "conflict diamonds" - rough diamonds that fund rebel violence against legitimate governments.
To paper over the lack of regulatory oversight for diamonds at the consumer end of the supply chain the Responsible Jewellery Council has developed and promoted standards based on the Kimberley Process and buttressed by the woefully ineffectual System of Warranties (SoW) developed by the World Diamond Council. Jewellers claim the SoW extends the effectiveness of the KP to cut and polished diamonds and guarantees a diamond is conflict free if a seller provides a written statement to that effect without any due diligence to back it up.
HRW confirms that the KP ignores a wide range of human rights issue related to state actors and private security firms and that both the KP and the SoW "have proven insufficient to ensure robust human rights due diligence in the diamond supply chain".
The report alludes to the fact that Angola and India blocked reforms to the KP definition of a "conflict diamond" but fails to mention that Israel blocked a previous attempt to have human rights included in the definition as it would have been "disastrous...especially for Israel".
HRW points out the serious shortcomings of both the KP and the SoW and flags concerns about "abusive mining of diamonds" and the "risk of exploitation and other serious harms to mining communities" but fails to express similar concern about the ongoing gross human rights violations perpetrated by   diamond-funded Israeli forces against Palestinian communities in the illegally occupied Palestinian territories.
If beggars belief that the authors of report weren't aware of the HRW report of June 13 2018 providing details of apparent war crimes in Gaza when Israeli forces shot and killed more than 100 unarmed Palestinians and wounded thousands more with live ammunition. Or that they could be unaware of the horrific suffering inflicted by Israel on civilians in Gaza by the use of white phosphorous munitions documented by HRW just a few weeks previously in "They Burn Through Everything"
'Sabah [Abu Halima] had been nursing her 15-month-old daughter when "[e]verything caught fire. My husband and four of my children burned alive in front of my eyes; my baby girl... my only girl, melted in my arms. How can a mother have to see her children burn alive? I couldn't save them. I couldn't help them." Sabah herself "had very deep burns that reached the bone, and in some places even burned the bone."'
The stomach-churning details of the suffering of one of the many afflicted families in Gaza should leave no one in any doubt that diamonds which fund the regime responsible for this barbarity are blood diamonds.
One then has to question why the HRW investigation of human rights in the jewellery supply chain fails to account for gross human rights violations by Israel which was recently described as " one of the largest diamond trading centres in the world".
The failure of the KP and SoW to address human rights abuses by security forces has lead many NGOs to abandon the KP and to promote the adoption of broader international standards including the UN Guiding Principles (UNGP) on Business and Human Rights and the more sector- specific Organisation for Economic Cooperation and Development Guidance for the Responsible Sourcing of Minerals (OECD Minerals Guidance) form Conflict-Affected and High-Risk Areas (CAHRA).
But as these are voluntary standards there are no legal repercussions for companies that flout them or selectively implement them. HRW maintains that the Responsible Jewellery Council (RJC) has brought its main certification standard in line with the OECD Mineral Guidance. The OECD Minerals Guidance require a high standard of due diligence to ensure companies avoid contributing to human rights violations.
However, none of the companies "scrutinized" by HRW consider Israel to be a CAHRA. As a result none of the cut and polished diamonds these jewellery companies source in Israel are subject to any human rights regulation what so ever. Even though diamond companies in Israel directly and indirectly generate revenue used to fund suspected war criminals these diamonds are laundered though the global market as so-called conflict-free diamonds.
The report refers to De Beers'Best Practice Principles which set out a range of human rights, ethical and environmental standards to which the company and its business partners must comply. HRW is critical of De Beers lack of traceability to specific mines of origin but fails to mention the direct funding which some of De Beer business partners provide to the Israeli military.
Up until recently A.B.T. Diamonds Ltd. was listed on De Beers'customer directory as an accredited buyer, wholesaler and polished manufacturers. A.B.T. Diamonds Ltd was one of the companies which a group of Anglo American (AA) shareholders raised concerns about over funding of the Israeli military during the 2019 AA AGM.
Last February, following controversy over the short listing of De Beers for a Positive Luxury award, the reference to the company and owner having made " significant contributions to the Israeli military" was removed from De Beers'website. Then later, A.B.T. Diamonds Ltd was removed completely from De Beers'customer directory, without any public explanation.
When NGOs turn a blind eye, as HRW has done in this instance, they grant impunity to abusers. According to HRW, jewellery companies should comply with the UN Guiding Principle on Business and Human Rights which recommend enterprises use their leverage to mitigate human rights impacts to the greatest extent possible. HRW has considerable leverage. But when they shepherd abusers in the jewellery supply chain they abandon victims and mislead consumers whose interests should take priority over all other considerations.
Human Rights Watch Israeli diamond industry