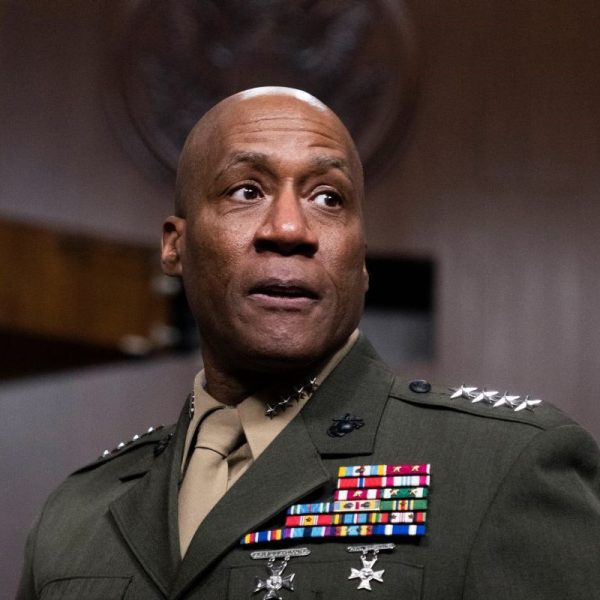 A general failed to mention six U.S. outposts and described a quarter-billion dollar drone hub as "low-cost."
By Nick TURSE
Since a cadre of U.S.-trained officers joined a junta that overthrew Niger's democratically elected president in late July, more than 1,000 U.S. troops have been largely confined to their Nigerien outposts, including America's largest drone base in the region, Air Base 201 in Agadez.
The base, which has cost the U.S. a total of $250 million since construction began in 2016, is the key U.S. surveillance hub in West Africa. But in testimony before the House and Senate Armed Services Committees in March, the chief of U.S. Africa Command described Air Base 201 as "minimal" and "low cost."
Gen. Michael Langley, the AFRICOM chief, told Congress about just two "enduring" U.S. forward operating sites in Africa: Camp Lemonnier in Djibouti and a longtime logistics hub on Ascension Island in the south Atlantic Ocean. "The Command also operates out of 12 other posture locations throughout Africa," he said in his prepared testimony. "These locations have minimal permanent U.S. presence and have low-cost facilities and limited supplies for these dedicated Americans to perform critical missions and quickly respond to emergencies."
Experts say that Langley misled Congress, downplaying the size and scope of the U.S. footprint in Africa. AFRICOM's "posture" on the continent actually consists of no fewer than 18 outposts, in addition to Camp Lemonnier and Ascension Island, according to information from AFRICOM's secret 2022 theater posture plan, which was seen by The Intercept. A U.S. official with knowledge of AFRICOM's current footprint on the continent confirmed that the same 20 bases are still in operation. Another two locations in Somalia and Ghana were also, according to the 2022 document, "under evaluation."
Of the 20, Langley apparently failed to mention six so-called contingency locations in Africa, including a longtime drone base in Tunisia and other outposts used to wage U.S. shadow wars in Niger and Somalia. The U.S. military has often claimed that contingency locations are little more than spartan staging areas, but according to the joint chiefs of staff, such bases are critical to sustaining operations and may even be " semi-permanent."
"This is a case of the U.S. military showing a marked lack of transparency by using technicalities to avoid conveying an accurate understanding of the extent of U.S. bases in Africa."
"This is a case of the U.S. military showing a marked lack of transparency by using technicalities to avoid conveying an accurate understanding of the extent of U.S. bases in Africa," Stephanie Savell, co-director of the Costs of War project at Brown University, told The Intercept. "I've done field research near the sites of some of the 'contingency locations' that don't seem to be part of the general's official count, and in practice, if not in name, they serve as significant hubs of U.S. military operations. To not include them in an official count is to pull wool over the eyes of Congress and the U.S. public."

Last week, a coalition of 20 progressive, humanitarian, and antiwar organizations

US taxpayers deserve transparency over how much of their💸 is being spent on our military presence overseas.
That's why 20 groups are urging Congress to build on @RepJohnLewis's legacy by keeping @RepBowman's House-passed Cost of War amendment in the final Defense bill that goes…

   NOTICE TO USERS IN FRANCE

to keep New York Democratic Rep. Jamaal Bowman's cost of war amendment,

The American people deserve to know the true cost of war. We need more transparency around the price of our military presence overseas and public information about our military footprint, which is exactly what my amendment to the NDAA will do.

"more transparency around the price of our military presence overseas and public information about our military footprint" in the final version of the 2024 defense spending bill.

Annee Lorentzen of the Washington-based Just Foreign Policy, who helped lead advocacy efforts around the amendment, sees it as critical for Pentagon accountability. "It is nearly impossible for U.S. taxpayers and even members of Congress to keep track of the vast U.S. military presence in the world. Without basic transparency about the location and costs of U.S. military engagement abroad, including information on the cost of our hundreds of bases and countless partnerships with foreign militaries, legislators cannot have an informed debate about national security priorities," she told The Intercept. "In a democratic system, voters and their elected representatives should not be in the dark about where their money and military are sent."

AFRICOM refused to clarify Langley's testimony. "AFRICOM has no statement in response to your questions," Timothy Pietrack, the deputy chief of AFRICOM Public Affairs, told The Intercept.

AFRICOM CLAIMS THAT Air Base 201 in Agadez is not an "enduring" forward operating site but, according to the command's 2022 posture plan, a "cooperative security location," presumably one of the 12 "minimal permanent U.S. presence" and "low-cost" facilities mentioned by Langley.

Observations by this reporter, who scrutinized Air Base 201 from its perimeter and overhead earlier this year, put the lie to Langley's characterizations. The linchpin of the U.S. military's archipelago of bases in North and West Africa, Air Base 201 consists of a 6,200-foot runway (composed of  1.1 million square feet of asphalt ), aprons, taxiways, massive aircraft hangars, multistory living quarters, roads, utilities, munitions storage, and an aircraft rescue and firefighting station, all within a 25-kilometer " base security zone." U.S. troops eat in a 13,000-square-foot dining facility, work out in a gym, play on basketball and volleyball courts, and spend leisure time at a recreation center with "bookcases full of movies and games, Wi-Fi, snacks," according to the Air Force, all of it protected by fences, barriers, and upgraded air-conditioned guard towers with custom-made firing ports. Only the Pentagon could call Air Base 201, the largest " airman-built" project in Air Force history, a "low-cost" facility, since it cost $110 million to build and is maintained to the tune of $20 to $30 million U.S. taxpayer dollars each year.

"When I went to Agadez on a research trip, I saw a large U.S. drone base that was the opposite of transitory," said Savell, who has mapped U.S. counterterrorism efforts around the world, noting large-scale infrastructure like drone hangars and conspicuous operations that included a burn pit belching black smoke into the air. "None of the base's neighbors - who see drones flying above their houses every day, and who have seen foreign contracting companies, rather than themselves, reap the profits of servicing a multimillion-dollar facility - would even remotely consider this a minor outpost."

Officially, so-called cooperative security locations, known as CSLs, have " little or no permanent U.S. presence," but Air Base 201 can currently accommodate about 1,000 U.S. military personnel, according to a spokesperson for U.S. Air Forces in Europe and Air Forces Africa. The access agreement governing the base has been in effect for nearly a decade, cannot be terminated with less than a year's notice, and has no end date. "The agreement continues in force automatically after its initial ten-year term," AFRICOM spokesperson Kelly Cahalan told The Intercept.

In the wake of the July coup, the Pentagon looks to be doing everything it can to hold on to that access. On Thursday, the Pentagon announced that "out of an abundance of caution," a small number of "non-essential personnel" would depart Niger and other troops would be repositioned but that the overall effects were minor. "This does not change our overall force posture in Niger," a Defense Department spokesperson told The Intercept.

"[T]he goal is to stay," said Air Force Gen. James Hecker, the commander of U.S. air forces in Europe and Africa, when asked last month if the U.S. was planning to evacuate troops from Niger. "Preparing to stay might be a better way to say it because that's what we're hoping we're going to do."

Deputy Pentagon Press Secretary Sabrina Singh voiced similar sentiments. "Niger is a partner, and we don't want to see that partnership go," she said. "We've invested, you know, hundreds of millions of dollars into bases there, trained with the military there."

In addition to Air Base 201, the U.S. military operates another CSL - a second drone facility known as Air Base 101 - at the main commercial airport in Niger's capital, Niamey. A Pentagon spokesperson told The Intercept that they were now "repositioning some U.S. personnel and equipment in Niger from Air Base 101 in Niamey to Air Base 201 in Agadez" but did not respond to questions about how many personnel would be moved. The CIA also operates a drone base in the far north of the country near the town of Dirkou.

CAMP LEMONNIER, A former French Foreign Legion outpost in sun-bleached Djibouti, is the crown jewel of U.S. bases on the east side of the African continent. A longtime home for Special Operations forces and counterterrorism operations in Yemen and Somalia, it hosts around 4,000 U.S. and allied personnel. Since 2002, the base has expanded from 88 acres to nearly 600 and spun off a satellite outpost 10 kilometers to the southwest, where drone operations in the country were relocated in 2013. Chabelley Airfield has gone on to serve as an integral base for missions in Somalia and Yemen, as well as the drone war against the Islamic State in Iraq and Syria.

In 2020, a CSL at Manda Bay, Kenya, was attacked by members of the terrorist group al-Shabab, killing three Americans, wounding two others, and damaging or destroying six aircraft. In neighboring Somalia, a similar base at Baledogle Airfield is a key node in the U.S. drone war that has seen 30 declared strikes under President Joe Biden. The U.S. also has a CSL in the capital, Mogadishu. Rep. Matt Gaetz, R-Fla., recently scoffed at Langley's characterizations of these as "minimal" outposts. "Look at Somalia. We're pretty enduring there," he told The Intercept during a recent interview. "We've become the block captain of Mogadishu."

Among the contingency locations listed in the 2022 posture plan that Langley failed to mention is a drone base located at Sidi Ahmed Air Base in Bizerte, Tunisia. As early as 2016, almost 70 Air Force personnel and more than 20 civilian contractors were deployed to "Camp Sidi," according to documents obtained by The Intercept via the Freedom of Information Act. "You know, flying intelligence, surveillance, and reconnaissance drones out of Tunisia has been taking place for quite some time," said Gen. Thomas Waldhauser, the then-chief of AFRICOM, in 2017. "[W]e fly there, it's not a secret, but we are very respectful to the Tunisians' desires in terms of, you know, how we support them and the fact that we have [a] low profile."

The other contingency locations that Langley apparently failed to mention to members of Congress this spring include facilities located in Misrata, Libya; Thebephatshwa, Botswana; Kismayo, Somalia; as well as in Ouallam and Diffa, Niger.

While AFRICOM prefers to gloss over the existence of these officially " non-enduring" outposts, contingency locations play a long-term and consequential role in U.S. operations. The Intercept first reported on a contingency location in Ouallam six years ago. After an October 2017 ambush in which ISIS fighters near the village of Tongo Tongo killed four U.S. soldiers and wounded two, AFRICOM announced that the ambushed troops - based in Ouallam - were providing " advice and assistance" to Nigerien forces. In truth, "Team Ouallam" was conducting operations with a larger Nigerien force under Operation Juniper Shield, a wide-ranging regional counterterrorism effort. Until bad weather intervened, that group was slated to support another team of American and Nigerien commandos based at a then-contingency location near the town of Arlit who were trying to kill or capture an ISIS leader as part of Obsidian Nomad II, a so-called 127e program that allows U.S. forces to use local troops as proxies.

"The framers of our Constitution didn't intend for Congress and the American people to learn about U.S. military missions once servicemembers had already lost their lives," said Lorentzen of Just Foreign Policy. "We need transparency both for our troops' sake and to permit debate about this military-first approach that scatters hundreds of U.S. military outposts across Africa and the world."

Pentagon Misled Congress About U.S. Bases in Africa (theintercept.com)